With contribution from National Beverage Company and Al-Tayf
Ramallah's Palestinian Society for Consumer Protection to organize Outreach Events in Summer Camps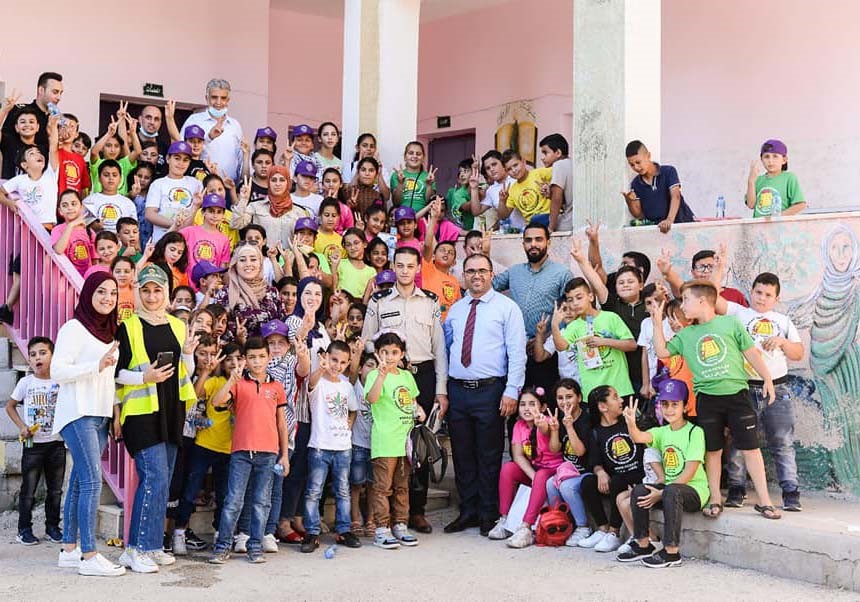 Ramallah- Alhaya Economic- In partnership with the National Beverage Company Coca-Cola/Cappy (NBC), Al-Tayf Dairy and Food Products Company "Candia", and Al Arz Ice Cream Factory, the Palestinian Society for Consumer Protection (PSCP) at Ramallah and Al-Bireh organized a series of outreach events in a number of summer camps in Ramallah & Al-Bireh, Bethlehem, and Nablus governorates on the consumer rights and how to advocate them, as well as on the importance of developing the consumers' abilities to file clear and complete complaints so that they can be followed up, and the importance and necessity of supporting, promoting and giving preference to products made in Palestine.
The outreach events covered Yasser Arafat summer camps at Deir Qadees, which were organized by the Deir Qadees Youth Club, Al-Shoga'an summer camp in Doha, which was organized by Doha Municipality, Yasser Arafat Foundation in Kufur Nimeh, the Palestinian Child Club, Dayr Ibzi' summer camp, and the National Committee for Summer Camps in Nablus governorate.
The PSCP distributed brochures to the participants which contain the consumer rights, food safety, food safety standards, and consumer duties. Companies distributed samples of their products to the participants in summer camps.
Mr. Salah Hanieh, Head of PSCP, said: "We coordinated with the Higher Council for Youth and Sport to organize outreach events in the summer camps which are subject to its supervision, and we coordinated with the National Committee for Summer Camps to deliver awareness spots in the summer camps, in addition to coordination with the partner institutions, the municipalities, and youth clubs. Such efforts constitute a continuation of the directions embraced by PSCP in raising the awareness about the consumer rights, the international standards of consumer rights, the importance of the law concerning the consumer rights protection and its articles, and the importance of promoting, supporting, and giving preference to the products made in Palestine in the government bids and procurements, in addition to presenting their diversity, comprehensiveness, and quality".
Mr. Hanieh commended the long-standing partnership with NBC, Al-Tayf Dairy and Food Product Company, and Al Arz Ice Cream Factory, which communicated in the outreach activities in areas related to the protection of consumer rights. "In 2009, we launched a campaign entitled (Palestine Summer from the Bounties of my Country), and a campaign entitled (Support your Nation by purchasing your Country's Products)", added Mr. Hanieh.
On his part, Mr. Imad al-Hindi, General Manager of NBC and Al-Tayf Dairy and Food Products Company "Candia", said: "PSCP's consumer-protection activity in the summer camps is focused on the consumer rights, reinforcing the products made in Palestine being a priority in our companies since we are devoted to the consumer rights in terms of the environment and introduction of safe goods and ensuring food safety, and we compete through quality which constitutes the key to the success of any product".